We're not teaching you anything! Hair botox (also call botox hair treatment or hair botox treatment) is an increasingly popular hair care method. This method involves using nutrient and protein rich products to nourish and repair damaged hair OR to care for your hair, making it supple, shiny, and soft.
In this article, we will focus on the importance of hair care, and why botox is definitely for you.
If you already know exactly what you want to know about botox, feel free to scroll through the article and take a look at our different paragraphs to see which ones interest you the most!
Ready to start? Let's go!
Dans cet article, nous allons nous pencher principalement sur l'importance des soins capillaires, et pourquoi le botox capillaire est indispensable.
Si vous savez déjà exactement ce que vous cherchez à savoir sur le botox, n'hésitez pas à scroller l'article et jeter un œil à nos différents paragraphes pour voir lesquels vous intéressent le plus !
Prête ? Let's go !
What exactly is hair botox?
Hair botox treatment is like a "fountain of youth" for your hair! In short, it is a solution that allows 2 things :
give new life to hair that has been damaged by lack of care or by an overly aggressive treatment;
beautify your hair, making it shiny, well-groomed and soft.
So, we reassure you that hair botox has nothing to do with the botox used in plastic surgery. Hair botox does not use the famous botulinum toxin used in plastic surgery.
To go a little deeper 😉
Hair botox repairs damaged hair by replenishing nutrients and moisture. It will seal the cuticles with a protective outer layer to retain the right substances. Botox hair treatment will prevent the hair's natural moisture and oils from escape. The ultimate goal is to bring your hair back to life internally.
Botox hair treatment will also beautify your hair as it will restructure your hair fibre and restore shine, shine and softness to even the most dull and damaged hair.
Hair botox is made from keratin and hyaluronic acid. The names can be frightening, especially the second one, so let's quickly see what these 2 components are.
We all have keratin in our hair and we've all heard about it. Hair botox treatment adds keratin to your hair to strengthen and re-bond the hair scales. Keratin has a smoothing effect, which is the main cause of the famous comparison that some people wrongly make between hair botox and Brazilian straightening. To be more precise, keratin intervenes by smoothing the first layer of the hair, the cuticle! In short, it will protect and restore strength and shine to your hair.
We are far from the acid that destroys the face, rest assured! Hyaluronic acid is a molecule. Like keratin, it is already present in our body. By applying a hyaluronic acid treatment to your lengths, you avoid hair breakage and limit split ends that annoy us all. Hyaluronic acid also works very well on frizz and makes styling easier.
Is it all right for you? If you're interested in this treatment, but have a few questions, feel free to let us know on Instagram, that's what we're here for! 😊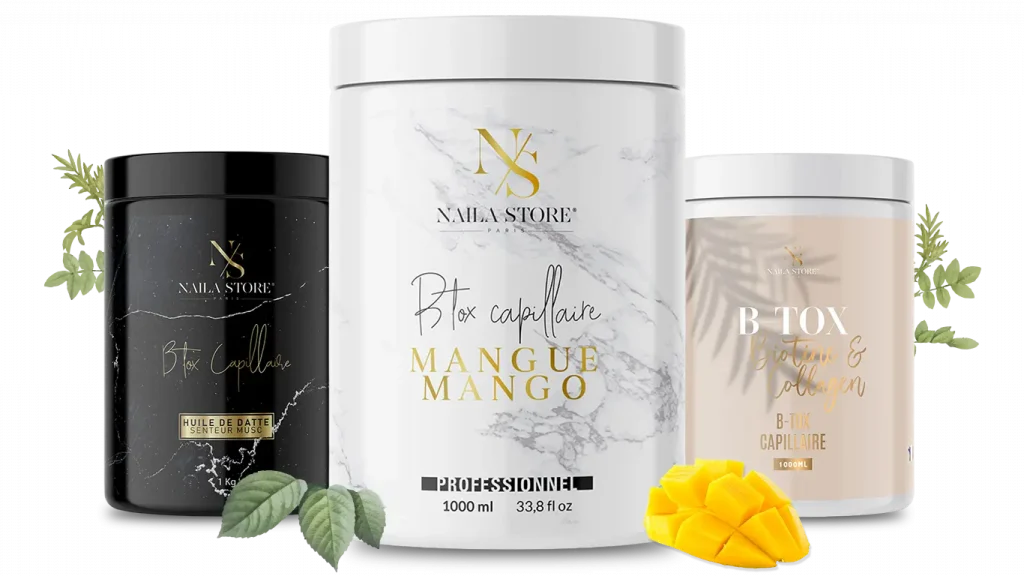 The advantages of hair botox
Its advantages are numerous! We could almost make an article for each of them. We've already talked about the fact that it brings your hair back to life so we'll focus on its other benefits.
Hair botox will clearly help you add shine and luster to your hair, making it look healthier and more vibrant. By using this method, you will have a radical before and after effect and this is what stands out the most when you hear about hair botox treatment.
It's what stands out the most because it literally takes your hair, and therefore yourself, from looking disheveled and dull to looking neat, and happy, and making you stand out.
It gives your hair softness! It's not just the shine that's striking after this treatment, it's also the softness it brings. Just by looking at it, when you see the following before and after, you will feel this softness on the hair, so I let you imagine in real life!
There is nothing more pleasant than being able to run your fingers through your hair and feel the freshness and softness of each strand! It's super satisfying and it's also something that hair botox offers.
It also leaves your hair smelling great! The combination of shine, softness and scent is a guaranteed strike! After the treatment, you have a smile on your face for the whole day! The natural active ingredients of the treatment have a pleasant, light smell that does not irritate the nostrils.
Another advantage of botox hair treatment is its smoothing effect. Botox is not a straightener! If you want straight hair, go for a baobab straightening for example. However, there is a reason why hair botox is so popular with hair straighteners. After a good straightening, hair botox allows you to add shine, softness and care to your hair while indirectly strengthening your straightening with keratin. When we see before/after botox on social networks we can quickly tend to believe that it is a smoothing among many others. But, no. It only has a smoothing effect.
At the end of the day, who is hair botox for?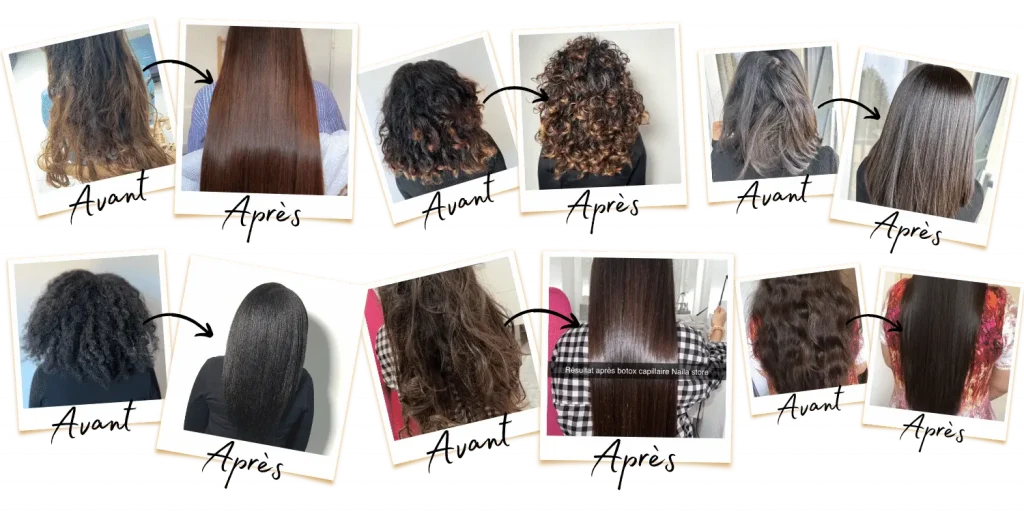 Do you recognise yourself in one of these "fronts"? Then you have your answer!
No, more seriously. Hair botox is suitable for everyone. As long as you have a minimum of length, you can indulge yourself.
It's perfect for women who are used to doing hair treatments (or plan to do so), who are attached to their hair straightener or who colour their hair.
Hair botox and straightening
When the end of straightening approaches, and the beginning of regrowth, what comes to mind… frizz!
So what can you do to remove frizz, repair your hair or at the MINIMUM maintain it after straightening, all while trying to keep a smoothing effect… hair botox! There is indeed a link between hair botox and straightening, apart from those who have unfortunately missed their straightening and had damage afterwards. There is a link between botox and straightening.
What we're looking for now is how to use hair botox wisely before and after a straightening.
When you decide to straighten your hair, it is important to prepare your hair. How do you prepare it? By means of a botox-type hair treatment to stay on topic. There is a wide range of botox to choose from depending on your needs to take care of your hair before a straightening.
It is essential to do this for the simple reason that many people go for a straightening and end up with bad results because their hair was in a "bad" state beforehand. Forgive the expression but it's true. We don't take enough care of our hair.
By doing a pre-straightening treatment, you prepare your hair to accept the effects of straightening and thus avoid the MAXIMUM harmful effects.
During the Brazilian straightening process, it is not beneficial to do any hair care. Apart from shampoos and other light care products, hair care products such as botox are not useful. This is because straightening will completely cover your hair and does not allow any care to penetrate deep into your hair fibre.
Apart from shampooing, you will have to wait before starting a hair care routine.
It is said that 8 weeks after a straightening, or rather when you see the effects of the straightening go away, you should do a treatment. Why? Because as we said earlier and as you may have already experienced, frizz often appears, which is normal. It is therefore necessary to take action to help your hair grow back beautifully. After straightening our goal is not to go from smooth, shiny hair etc. to hair full of frizz, breakage and dullness!
To avoid this, we need to use a hair botox treatment. And then comes the famous question, "exactly what botox can I use?"
Different hair botox depending on your goals!
Accelerate hair growth
With its vitamin E, date oil is ideal to accelerate the growth of your hair! One thing you should know, this oil has an anti-oxidant function. With this function, it will protect the body's cells from premature aging and hair loss at the same time.
Stop the loss of your hair, revitalize it and stimulate its regrowth, this is the promise of botox date oil!
A perfect product for those who have recently lost a lot of mass.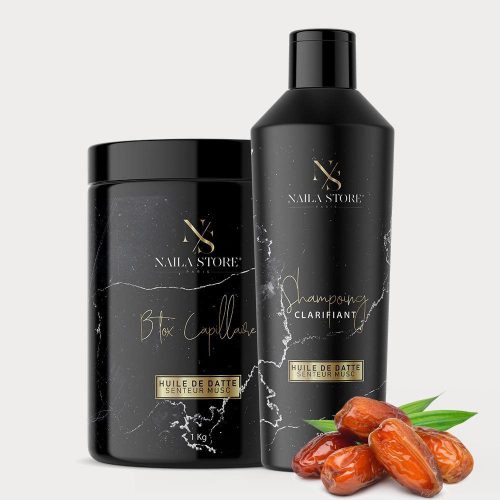 Your hair has never smelled so good!
This one is a hair botox enriched with a tropical fruit that many love… the mango! Apart from being delicious, this fruit has strong nourishing and moisturizing properties. It gives your hair a delicious smell that leaves no one indifferent. This is one of the main reasons for its success. Apart from its delicious smell, it will nourish your hair, repair it, and give it a nice shine.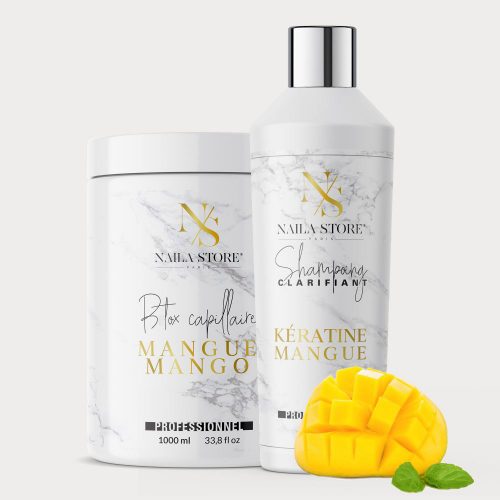 Stops hair loss and strengthens hair
Its collagen and biotin make it an ideal product to take care of your hair! This hair botox treatment has the particularity of stopping hair loss and strengthening your hair. These elements already present in your body are designed to strengthen your hair, prevent it from falling out and retain moisture, leaving your hair soft and healthy! You can give your hair a little boost and let it bring out the best in you…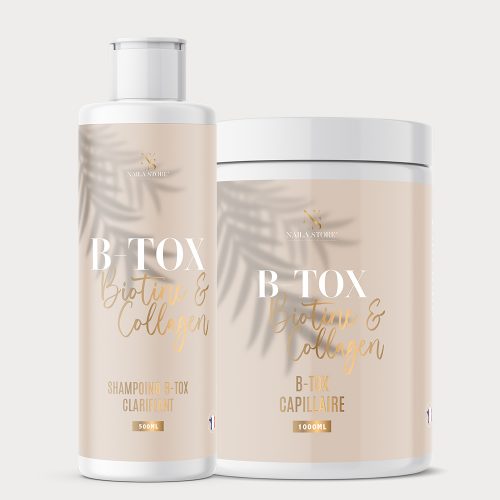 Your hair has never been so hydrated!
This HYDRA range allows you to keep your hair healthy by adding keratin. Once again, it will strengthen your hair to make it more resistant. It contains hyaluronic acid to smooth and add shine to your hair.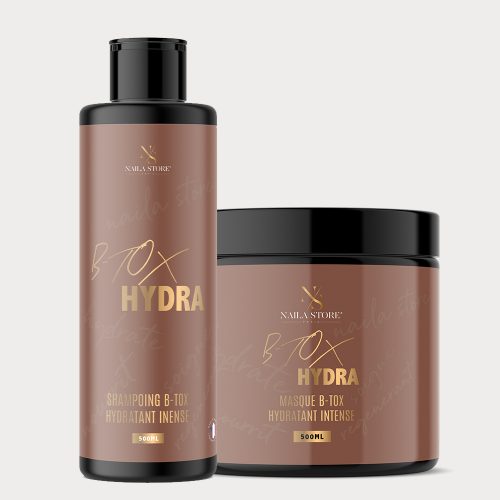 A mask to repair your hair
With its argan oil and keratin, this mask will repair your hair. It will manage the entire fibre structure, keeping your hair aligned, nourished, strong, healthy and frizz-free.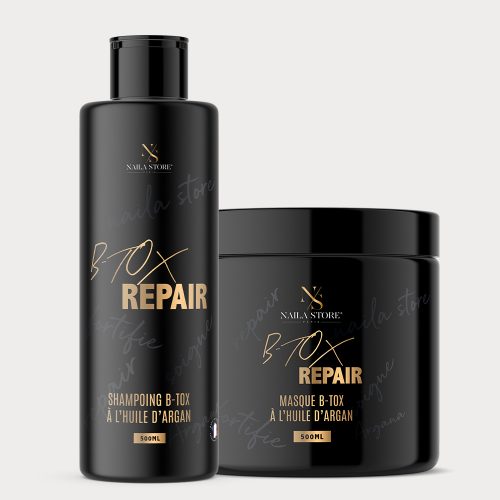 Reconstruct your hair fiber
Have you had a straightening treatment that destroyed your hair? This one is for you. The name is clear, its purpose is to deeply rebuild your hair fibre. It will stimulate the microcirculation and the growth of your hair while slowing down hair loss.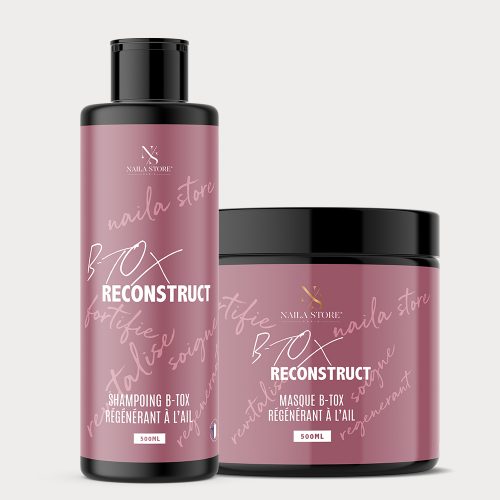 How to apply your hair botox?
First, wash your hair with clarifying shampoo.
Before starting with hair botox, you should first wash your hair with a clarifying shampoo. Clarifying shampoo is specially designed to treat and clean the hair against various external aggressions (pollution, colouring, bleaching, etc.). The shampoo opens the hair scales to optimise the penetration of the keratin and its natural richness and prepare the hair for your treatments.
The clarifying shampoo is a bit like the alcohol that the doctor puts on our arm before the vaccine.
Secondly, wring out the hair with a towel to remove excess water.
Only the excess water, you still want to keep your hair a little wet. Why wet? Simply because it will be much more convenient to apply botox to wet hair than to dry hair.
Third, apply the mask strand by strand.
Now you can divide your hair into four equal parts and apply the equivalent of an avocado pit of the botox hair mask per part to your wet hair, massaging the product from the roots of your hair to the ends. You can use your fingers or a brush to apply.
Use a comb to distribute the mask evenly throughout your hair and remove any excess.
Wrap your hair in cellophane or use a heat cap and leave on for 30-60 minutes to allow the mask to work optimally and penetrate the hair fibre.
Fourth, wash 90% of your hair with water.
After 30-60 minutes, wash out your hair. You can also leave a small amount of botox product on your hair. This will leave a good scent and allow the botox particles to continue working.
Fifth, let it dry and then straighten it.
Once your hair is washed, you can either blow dry it or leave it to dry as is. The best way is to let it dry by itself.
Then you can and should use a straightening iron as this will allow the product remaining in your hair to penetrate further into the cuticle. This will allow you to absorb all the benefits of the botox treatment.
The duration of the hair botox
Everything will depend on the reaction of your hair, it is not an exact science but generally the hair botox lasts between 4 and 8 weeks. That means between 1 and 2 months. However, the reconstructive effects are still present.
Again, it all depends on your "before" condition. If you were on the verge of cutting your hair before having a hair botox treatment, you will need several sessions to achieve your goals. Therefore, after the first session, yes you will see results that will automatically encourage you to continue, but you will have to persevere.
Honestly, we have never heard of any serious side effects from hair botox because it is a "treatment". As long as you follow the application instructions, you will not have any side effects. The worst that can happen is that you want to see a different result. In that case, it is very likely that you just didn't choose the right hair botox for you.
The importance of hair care
It is important to point out the importance of hair care because we still neglect our hair too much. Our hair is exposed to daily external stresses such as pollution, UV rays, heat from styling appliances, chemicals from colouring and hair treatments.
To keep hair healthy and strong, it is important to maintain it regularly. This means having a comprehensive hair care routine.
This is the only way to prevent breakage, split ends, and hair loss. It's also the only way to keep our scalp hydrated and healthy.
We did a survey a few months ago with our newsletter subscribers about their hair routine and we were surprised at how many people had done aggressive treatments and ended up with heavy hair damage!
Anticipation and prevention.
Do hair care to prevent damage that could be caused by more aggressive treatments, and environmental factors.
We all want to have beautiful hair texture.
Hair care is the only way to improve the texture of your hair by making it softer, stronger and shinier. Stop neglecting it and make the right choices!